The 8 Healthiest Options on the Panera Menu, According to a Dietitian
Panera is a popular breakfast and lunch restaurant chain thanks to its delicious fresh-baked artisan breads, sandwiches, soup, salads, warm grain bowls, pizza, flatbreads, and more. Since the chain first launched in 1987 as the St. Louis Bread Company, the chain has grown, changed names, and now has more than 2,000 locations in the U.S and Canada. Much of Panera's appeal is due to its health halo of offering a menu that is "100% Clean," which may make you wonder "is Panera Bread healthy?" The chain qualifies as "clean" in that it only uses GMO-Free ingredients and nothing artificial, but does not make any nutritional claims regarding its menu.
Best healthy choices at Panera Bread
When it comes to choosing Panera's menu items that are truly good for you, there's much more to consider than "clean" ingredients. Here are some tips for Panera healthy options:
Choose options that have up to 700 calories.
Saturated fat should be lower than 8 grams.
Look for choices that keep added sugars to no more than 20 grams of sugar (4 Tsp).
Make sure the lunch or dinner option has more than 5 grams of filling fiber.
Opt for choices that pack in veggies like tomato soup, grain bowls, and salads, and order your sandwiches with double lettuce and tomato.
Ask for an open-faced sandwich with extra veggies.
Keep dressing on the side and skip high-fat, nutrient-poor add-ons like bacon.
Order a bowl rather than a sandwich as you'll get more whole grains and fiber and generally fewer calories.
To make sure we were recommending the absolute best healthy choices at Panera, we consulted a team of registered dietitian nutritionists to help us. We excluded all seasonal items and just included the main Panera menu. Although calories played a role in our rankings, we also dinged items that were too high in sodium and saturated fats. Now settle in on that couch and enjoy.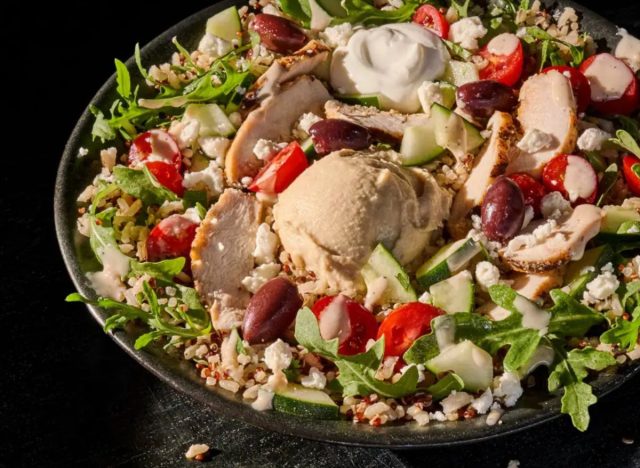 Per bowl (1 1/2 cups): 640 calories, 32 g fat (7 g sat fat), 1460 mg sodium, 68 g carbs (8 g fiber, 7 g sugar), 26 g protein
A main course salad from the Panera salad menu is a great option at Panera. One of the healthiest options is the Mediterranean Bowl made with a variety of greens, quinoa, cucumbers, hummus, olives, and feta with a creamy dressing. This salad packs in 26 grams of protein, thanks to the chicken and hummus. The addition of 8 grams of fiber will help keep you satisfied as well. If you want a slimmed-down, vegetarian version, opt for the Mediterranean Bowl without Chicken, which has 590 calories.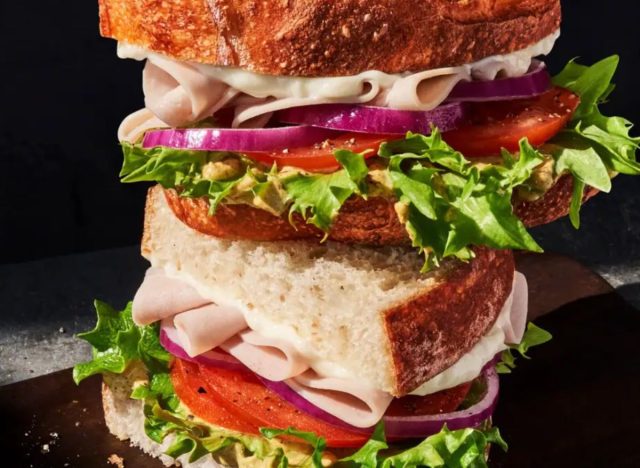 Per bowl (1 1/2 cups): 600 calories, 19 grams fat (3 g sat fat), 1510 sodium, 73 g carbs (5 g fiber, 5 g sugar), 35 g protein
This main course sandwich off the Panera sandwich menu is made with lean turkey, greens, tomatoes, and mustard and is on delicious bakery sourdough bread. This sandwich stands above the other options nutritionally due to its calorie, fiber, and low sugar counts. It also provides 35 grams of filling, high-quality protein.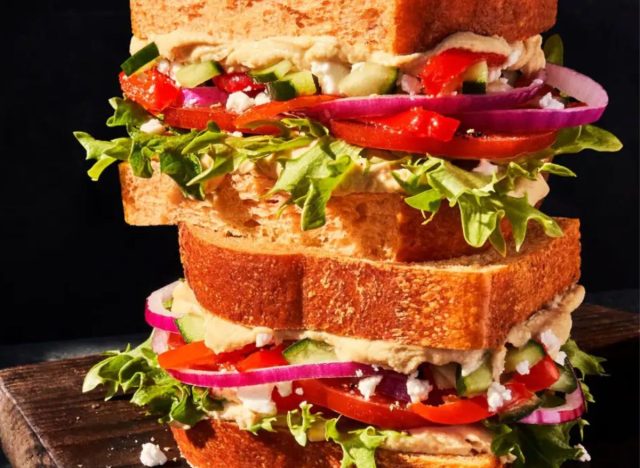 Per bowl (1 1/2 cups): 640 Calories, 14 g fat (4 g saturated fat), 1660 mg sodium, 108 g carbs (7 g fiber, 11 g sugar), 23 g protein
Another good sandwich pick at the chain is the Mediterranean Veggie Sandwich. It's filled with classic Mediterranean ingredients, including peppers, cucumber, tomatoes, feta, and hummus. Ask for whole wheat bread to up the fiber count.
Per bowl (1 1/2 cups): 690 calories, 34 g fat (7 g saturated fat), 1250 mg sodium, 82 g carbs (14 g fiber, 10 g sugar), 18 g protein
As one of the higher fiber options on the Panera menu, this Southwestern-inspired dish includes brown rice and quinoa, black bean and corn salsa, tomatoes avocados, and greens. It's a substantial meal that packs a lot of protein from the beans and veggies.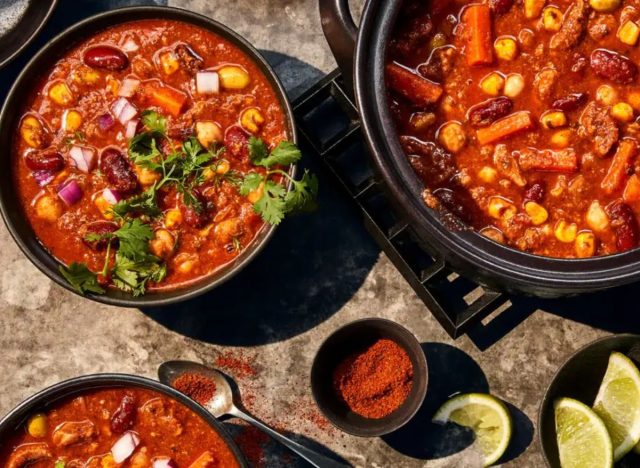 Per bowl (1 1/2 cups): 300 Calories, 10 grams fat (4.5 g saturated fat), 690 mg sodium, 31 g carbs (14 g fiber, 8 g sugar), 21 g protein
A cup of slow-cooked turkey chili is a great option at Panera due to the modest calories, and high fiber and protein counts. Made with a variety of veggies and chickpeas and kidney beans, this is an excellent choice to keep your diet on track while eating out.6254a4d1642c605c54bf1cab17d50f1e
Per bowl (1 1/2 cups): 330 Calories, 16 g fat (7 g saturated fat), 1210 mg sodium, 41 g carbs (5 g fiber, 33 g sugar), 8 g protein
Orange-hued veggies are among the most nutrient-packed. The problem is, most of us rarely eat squash to get those benefits. This Panera soup is made with butternut squash and pumpkin simmered in vegetable broth and delish fall spices. Two downsides: It's made with vegetable broth which makes it high in sodium. The sugar count is high but it's primarily from naturally-occurring sugars in squash and other ingredients rather than added sugar.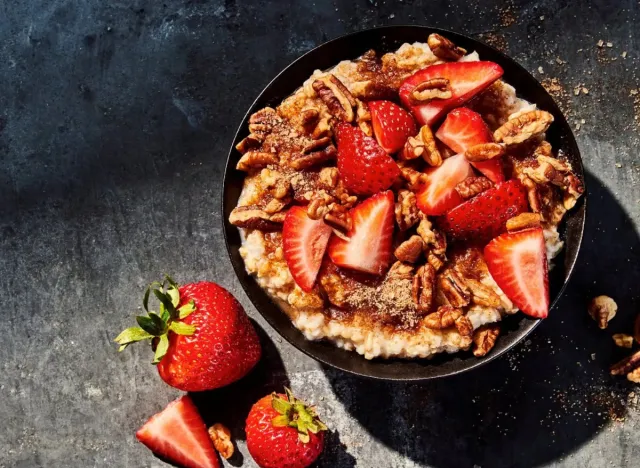 Per bowl (1 1/2 cups): 370 Calories, 15 g fat (2 g saturated fat), 150 mg sodium, 52 g carbs, (9 g fiber, 17 g sugar), 8 g protein
Eating breakfast away from home? Panera has some great options. Instead of a buttery croissant, pastry, or bagel from the eatery, order Steel Cut Oatmeal with Strawberries and Pecans. Starting your day with a filling bowl of whole-grain, fiber-rich steel-cut oats will help keep you satisfied. Oats have a great one-two punch of fiber and protein that enhances satiety to help you stay on track all day long. Ask to have no cinnamon sugar to reduce the sugar in this breakfast option.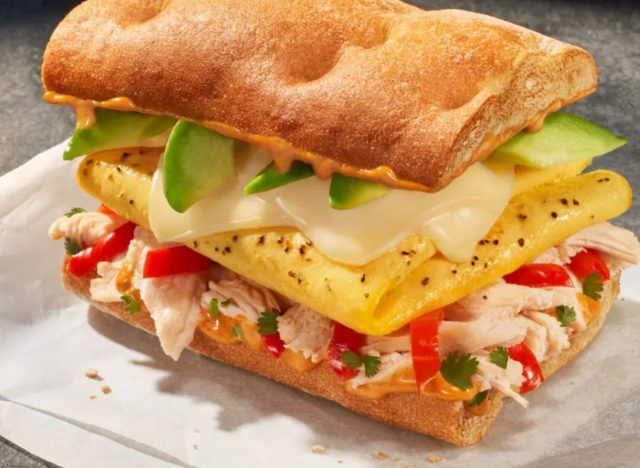 Per bowl (1 1/2 cups): 530 Calories, 29 g fat (9 g saturated fat), 890 mg sodium, 43 g carbs (4 g fiber, 2 g sugar), 26 g protein
For a healthier egg sandwich, this is a crowd-pleaser. It's made with delish ingredients including smoked, pulled chicken, Peppadew peppers, and avocado, and is served on an artisan ciabatta roll.
A previous version of this article was originally published on February 4, 2019.
link