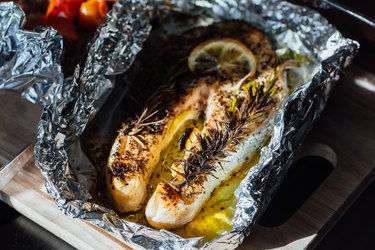 Ending the day with a delicious meal screams comfort, but a messy kitchen and a sink full of dirty dishes can be quick to ruin that. That's why foil packet dinners are so great: They're easy to make, easy when it comes clean-up and they even feel festive because you have your own little packet on your plate.
"Foil packet dinners are a great way to cook up a protein, vegetable and starchy carb all at once, so you can have a balanced meal on the table in a short amount of time and with minimal clean-up," says dietitian Hannah Magee, RD.
And while you can put just about any meal into foil (just like a sheet-pan dinner or one-pot meal), you'll want to try these winning foil packet recipes stat.
1. Grilled Chicken and Potatoes In Foil
"Chicken is a nutritious lean protein choice and potatoes are a starchy vegetable that serve as a carbohydrate source in this meal," says Mia Syn, RD of Nutrition by Mia. "Omit the butter or use additional olive oil instead to replace the saturated fat."
2. Pecan-Crusted Honey Mustard Salmon in Foil
This dish can help you meet your recommended two servings of seafood per week, Syn says. "Salmon is a good source of omega-3 fatty acids, which are important for brain and heart health."
3. Cilantro Lime Shrimp and Cauliflower 'Rice' Foil Packs
Using cauliflower rice instead of regular rice not only helps you eat more vegetables, but it keeps this foil packet dinner great for low-carb diets. And you get a double dose of protein with shrimp and black beans, Syn says.
4. Grilled BBQ Chicken Foil Dinner
This recipe calls for store-bought barbecue sauce, but many contain sizeable amounts of added sugar in the form of high-fructose corn syrup, Syn warns. "Read the ingredient lists and nutrition facts labels to find the best option in your market."
5. Steak and Mushrooms Foil Packs
"Mushrooms are a great meaty-tasting vegetable that can complement meat dishes well or be used as a plant-based swap for those looking to cut back on animal protein intake," Syn says. If you want to lower the calories here, make this recipe with chicken instead of steak.
6. Moroccan-Inspired Salmon Foil Packets With Carrot Noodles and Chickpeas
"Spiralized vegetables, like carrots used in this dish, can serve as a lower-calorie and lower-carb swap for pasta," Syn says. If you don't have carrots, you can spiralize zuchinni, sweet potato or beets.
7. Sablefish in Foil With Peppers and Olives
Also known as black cod, sablefish is a good source of omega-3 fatty acids, protein and key nutrients like magnesium, iron, vitamin A and B vitamins, Syn says. You'll cook this lean protein in foil with peppers and olives for a nice mix of sweet and salty flavors.
8. Steak and Potato Foil Packs
Top sirloin, the meat used in this recipe, is a lean cut of red meat, which means it's high in protein and low in fat, according to the Mayo Clinic. To make this foil packet meal more well-rounded, consider adding green vegetables like broccoli, spinach or asparagus to the packet before grilling.
9. Pineapple BBQ Chicken Foil Pack Dinner
This hearty recipe marries savory and sweet for a satisfying dinner. Use fresh pineapple slices as opposed to canned pineapple in juice here for a lower-sugar option, Syn suggests. Also, be sure to choose a low- or sugar-free barbecue sauce.
10. Foil-Pack Baked Nachos
While this recipe calls for ground beef, any ground meat or meat substitute would work, Syn says. "Swap Greek yogurt for sour cream and bean chips instead of traditional tortilla chips for higher protein alternatives."
11. Chicken Parmesan Foil Packets With Veggies
Because this chicken parmesan recipe skips breadcrumbs, it makes for a lower-calorie and lower-carbohydrate option, Syn says. "To add cheesy flavor without cheese, try nutritional yeast in place of parmesan."
12. Greek-Inspired Salmon Baked in Foil
"Lemon juice is a great way to add fresh flavor to protein dishes for very little calories," Syn says. For a well-balanced meal, pair this lemony fish with a cooked whole grain like brown rice or quinoa.
13. Chicken and Rice Fajitas in Foil
"Pairing a protein and veggie with healthy carbs [like this recipe does] is helpful for feeling full and satisfied," Magee says. Add a dollop of Greek yogurt and sliced avocado to the top for more protein and healthy fats.
14. Easy Chicken and Asparagus Foil Packets
"I'd recommend pairing the juicy chicken and asparagus with a side of crispy roasted potatoes or cooked quinoa to round out the meal with some fiber-rich carbohydrates," Magee says.
15. Asian-Inspired Chicken and Vegetable Foil Packets
This gluten-free dinner has nearly 36 grams of protein. The tightly packed foil ensures the chicken stays juicy while the ginger-sesame sauce adds complex flavors.
16. 5-Ingredient Mediterranean Salmon in Foil Packets
"Salmon is a nutrition powerhouse," Magee says. "Not only is it a quality source of protein, but it also offers omega-3 fatty acids, which have benefits for both heart and brain health."
17. Caesar Grilled Salmon Foil Packets
Spice your salmon with salt, pepper, lemon juice and olive oil and then brush it with Ceaser dressing for more zing. You'll place it in foil packets with veggies including artichoke hearts, which are low in calories and fat as well as high in fiber, Magee says. "Artichokes also offer 3.5 grams of protein per medium-sized veggie."
18. Baked Lemon Chicken Foil Packets
To make this a well-balanced meal, Magee recommends adding more non-starchy vegetables. Throwing in a cup of broccoli, bell peppers or cherry tomatoes to the mix will make this more filling.
19. Foil-Packed Pork Tenderloin Dinner
If you've run out of ways to cook pork, you'll welcome this easy recipe that results in tender meat. "I love the addition of peach preserves for flavor, but I would love to see more color in this recipe," Magee says. Consider adding vegetables like a simple green salad, broccoli, green beans or seasonal squash.
20. Grilled Shrimp Foil Packets
"Shrimp is a source of complete protein," Magee says. "Potatoes are also nutritious as they're a great source of fiber, potassium and vitamin C."
21. Butternut Squash and Chicken Foil Packets
Even though butternut squash is a vegetable, it is rich in starchy carbohydrates, Magee says. So adding in non-starchy veggies like Brussels sprouts, spinach or kale would round this meal out.
22. Shrimp and Couscous Foil Packets With Avocado Mango Salsa
"This recipe does a great job of encouraging you to eat the rainbow with mango, avocado, tomatoes, red onion and spinach," Magee says.
23. Chicken Cordon Bleu Foil Packets
This foil packet makes for a great main dish that's creamy and filling. To make it a complete meal, add a side salad or steamed asparagus.
24. Curry-Spiced Foil Packet Potatoes and Eggs
Eggs are versatile and nutritious — and this foil packet breakfast can double as lunch or dinner. "This recipe proves that you can eat eggs at any meal and you'll get a variety of nutrients like protein, vitamin D, choline and selenium," Magee says.
25. Garlic Herb Sausage and Veggie Foil Packs
The combination of sausage, veggies and potatoes makes for the perfect weeknight meal when time is limited. One serving of this recipe gives you 20 grams of protein.`


link