When the outside temperatures start to cool, it's once again soup's time to shine. It's the perfect starter, side order or meal when you're feeling chilly. And most chain restaurants offer a variety of soups on their menu to help you warm up. However, they can be nutrition disasters.
"Although you might want to reach for soup when you are feeling cold or under the weather, some soups may be loaded with salt, cream, butter, and high in overall calories, unhealthy fats and sodium," Roxana Ehsani, MS, RD, CSSD, LDN, a registered dietitian nutritionist in Miami, tells Eat This, Not That! . "Most cream-based soups or cheesy soups will likely be high in fat compared to soups that have a broth-base."
On the flip side, if you are looking for a healthy soup, look for one that isn't creamy or cheesy in consistency, since those likely will be higher in fat.
"Look for one that adds lots of veggies into their soup such as veggie soup or minestrone soup," says Ehsani.
Another thing to check is sodium content.
"This is important because the American Heart Association recommends no more than 2,300 mg of sodium per day for most adults, and less than 1,500 mg per day for those with high blood pressure," says Amber Pankonin, MS, RD, registered dietitian, and owner of the food blog Stirlist.
Adds Ehsani, "Check to see if the sodium content on the soup you are ordering is in a reasonable range, such as 200 to 500 mg per cup."
With that in mind, here are 10 of the unhealthiest soups you can order at your favorite chain restaurant.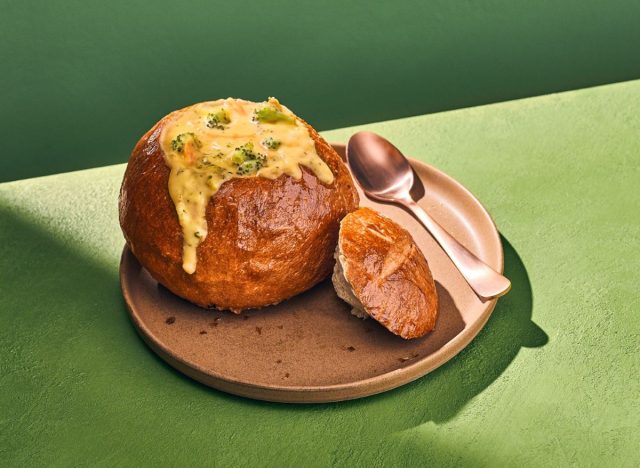 Nutrition: 900 calories, 20g fat (11g saturated fat), 2090mg sodium, 146g carbs ( 8g fiber, 7g sugar), 35g protein
Bread is the perfect pairing with a warm bowl of soup. But if you order the Bread Bowl at Panera, you're in for carb overload.
"The famous broccoli cheddar soup in a bread bowl is so beloved by many, but is one of the highest in calorie soups on the Panera menu," says Ehsani. "You might be thinking its nutritious for you as there's an actual veggie in the name, but it packs 900 calories, which is almost half your calories for the day from one soup. It also contains nearly a day's worth of sodium in one bowl, packing close to 2100 mg of sodium per serving."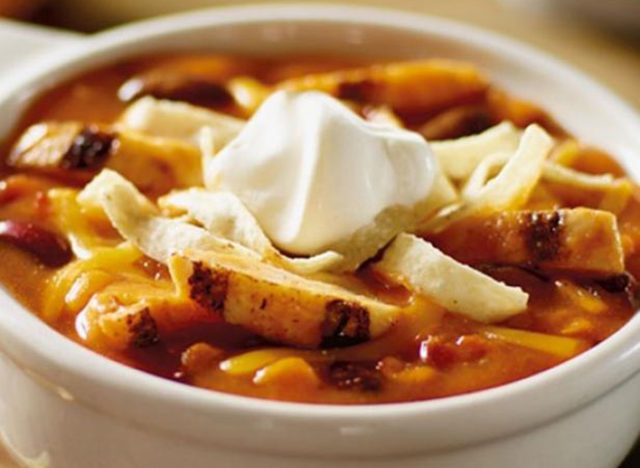 https://www.redrobin.com/sites/default/files/2022-03/0322_NS_US-All-Locations.pdf
Nutrition: 390 calories, 19g fat ( 7g saturated fat), 1720mg sodium, 37g carbs ( 6g fiber, 8g sugar), 20g protein
While this soup is broth-based, it's topped with fat and calorie-laden cheddar, sour cream and tortilla strips.
"Even though a bowl of this Chicken Tortilla soup is only 390 calories, the amount of sodium is high at 1720 mg/serving," say Pankonin.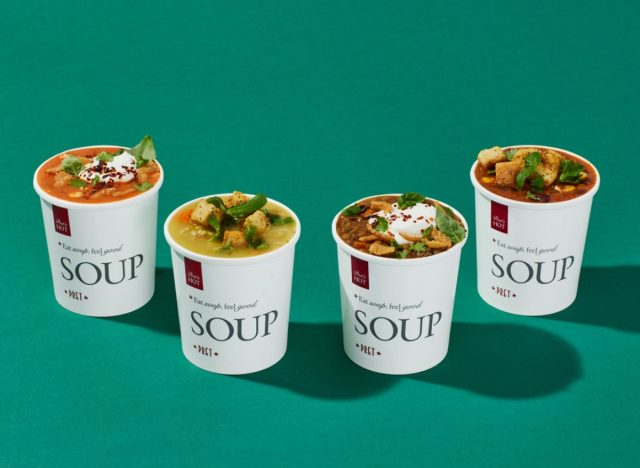 Nutrition: 260 calories, 15g fat (6g saturated fat), 1520mg sodium, 26g carbs (4g fiber, 15g sugar), 9 g protein
"Although this soup isn't too unhealthy compared to others, 2 cups of soup (their large size) does hit approximately half of your daily limit for saturated fat," says Ehsani. "A 2,000 calorie diet should hit no more than about 13 g of saturated fat a day, this soup hits nearly half in just 2 cups. It also is quite high in sodium, packing 70% of your daily limit for sodium, too."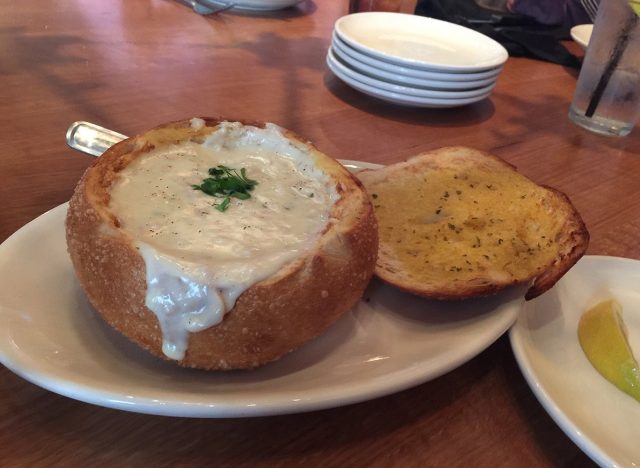 https://bjsrestaurants.scene7.com/is/content/bjsrestaurants/0623_BJS_NUTRI_rev2pdf
Nutrition: 1470 calories, 42g fat ( 14g saturated fat), 4680mg sodium, 219g carbs ( 10g fiber, 5g sugar), 45g protein
This soup has the most calories and sodium on the entire list.
"This cream-based soup is both very high in calories and sodium," says Pankonin. "It contains 1470 calories and 4680 mg of sodium, which is double the amount of sodium that is recommended to be consumed per day."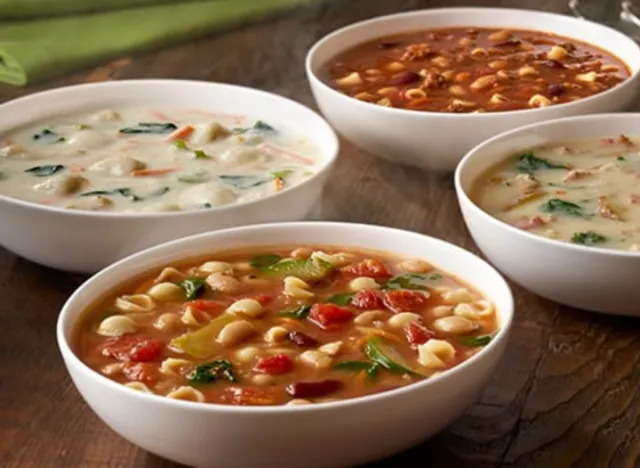 https://media.olivegarden.com/en_us/pdf/olive_garden_nutrition.pdf
Nutrition: 220 calories, 15g fat (7 g saturated fat), 790 mg sodium, 15 g carbs ( 2g fiber, 2g sugar), 7g protein
"This creamy soup is loaded with sausage and potatoes and is quite high in fat," says Ehsani. "Sausage on its own is quite high in unhealthy fat and salt, when you combine it with a cream-based soup those calories can add up quickly. Over half of this soup's calories are coming from fat. If you are looking for a healthier option, choose the minestrone at Olive Garden instead!"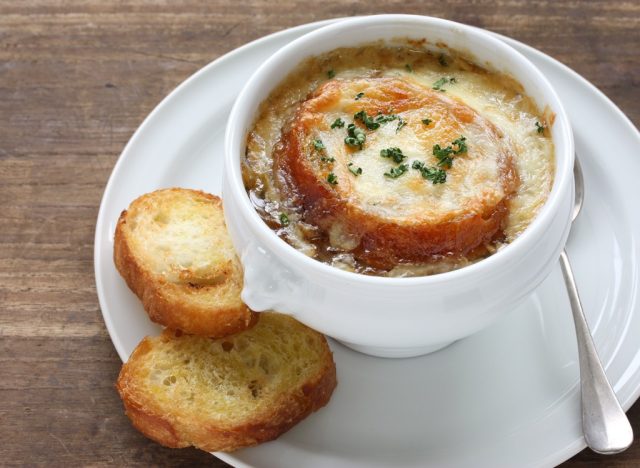 https://www.applebees.com/en/nutrition/info
Nutrition: 370 calories, 22 g fat ( 12 g saturated fat), 1250 mg sodium, 26 g carbs ( 2 g fiber, 9 g sugar), 16 g protein
Although this soup is broth-based (not creamy), it still packs a ton of sodium.
"French Onion soup is typically high in sodium due to the cheese and bread that is included," says Pankonin. "This version only contains 370 calories but it does contain 1250 mg of sodium, which is about half the recommended amount you should consume in a day."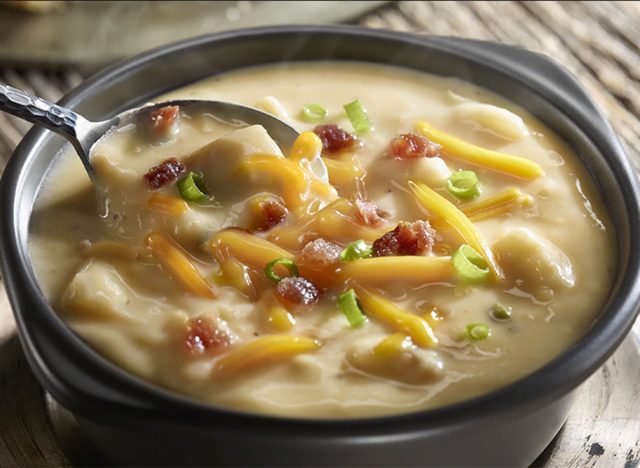 https://media.longhornsteakhouse.com/en_us/pdf/nutrition_allergen_guide.pdf
Nutrition: 380 calories, 19g fat (9g saturated fat), 670 mg sodium, 16g carbs ( 2g fiber, 2 g sugar), 10g protein
LongHorn Steakhouse doesn't mince words when they say this soup is 'loaded'–it's crammed with tons of bacon and cheese.
"Potato lovers will be sad to learn this isn't the best option at LongHorn Steakhouse, this cream-based soup is loaded with bacon and cheese," says Ehsani. "Both bacon and cheese are naturally high in sodium and unhealthy saturated fat. For a bowl of this soup, it's also going to hit almost half of your fat needs for the day."
6254a4d1642c605c54bf1cab17d50f1e
https://brinker-chilis.cdn.prismic.io/brinker-chilis/703729fe-1a6e-43c7-aad6-f6cab77f4e0f_chilis-nutrition-menu-generic.pdf
Nutrition: 600 calories, 35 g fat ( 13 g saturated fat), 2000 mg sodium, 28 g carbs ( 2 g fiber, 5 g sugar), 27 g protein
Yes, Chili's has chili! It offers a kick of spice, as well as lots of sodium and fat–since it's topped with cheese and tortilla strips.
"This bowl of chili contains 600 calories and 2000 mg of sodium," says Pankonin. "If ordering this as a side, try ordering a cup instead of the bowl and it will cut the calories and sodium in half."
https://az727346.vo.msecnd.net/content/images/OBS_Full_Nutrition_Information_Core_Menu_Items.pdf
Nutrition: 570 calories, 36g fat (17 g saturated fat), 4120mg sodium, 42 g carbs (4g fiber, 18 g sugar), 19g protein
"Although French onion soup is technically broth-based, the brothy base is also made by slowly cooking onions in lots of butter then topping each bowl with lots of cheese," says Ehsani. "This soup is also super high in sodium, packing almost double your daily limit for sodium in one bowl. It contains 4120 mg of sodium, while the daily recommendation should not exceed 2300 mg of sodium!"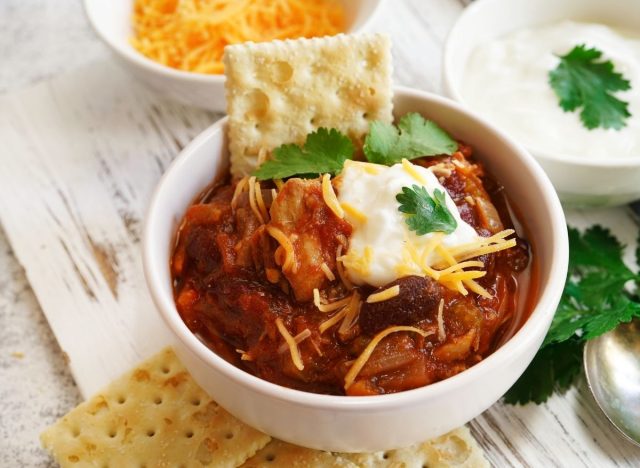 https://www.subway.com/en-ca/menunutrition/nutrition
Nutrition: 360 calories, 22 g fat (8 g saturated fat), 800 mg sodium, 21 g carbs ( 4 fiber, 6 g sugar), 21 g protein
Subway offers up a meaty chili. While more filling than other options, it's the worst nutritionally.
"Compared to the other soup options, this soup contains the highest amount of calories and sodium on the menu," says Pankonin. "It might be more filling compared to the other options, but it does contain the highest amount of fat."

link